I'd been given plenty of advice prior to going freelance, including with whom I should bank. I did my own research about business bank accounts and then it dawned on me that I should probably streamline all my banking and hold all my funds in ethical places.
Nationwide Building Society – a brief personal history
I've banked with Nationwide since I was a little kid walking into the building society with my book to withdraw some pocket money at the weekend. Unbeknown to me at the time, they rank as one of the best ethical banks in the country. It's important to me that, despite my minuscule bank balance, my money gets invested in good causes. When I moved back to England in 2014, I rekindled my relationship with the bank by opening a FlexDirect account. They have some of the best customer service I've ever had and when banking always seems like a chore, they're always incredibly helpful in easing the process.
The newcomer to the game, Monzo
It wasn't until Monzo came along as a pre-paid card that I considered other banks. When it first got going, it wasn't a fully-fledged banking institution (you know, regulated with certificates and all that). The USP was free payments and great exchange rates when travelling so I got a golden ticket fairly early on in order to make my overseas trips a little cheaper.
The Monzo app is so intuitive with so many great gadgets on it to help you budget and assess your spending across a myriad of categories. I tried to avoid looking at this for the shame it would bring under the "takeaway food" section! It also comes with a human element with fun little notifications to welcome you from country to country. Speaking of human elements, the Monzo tone-of-voice page is one of the best I've seen!
Time went by and I eventually got a debit card to replace my pre-paid one meaning I had a sort code and account number. Nifty, I thought! Now people can pay me all their money from their old school accounts…muahahaha!
Going the whole nine yards
As I made the transition to go freelance, I decided to take the plunge and make the current account switch 🤓 and have all my funds in one handy place no matter where I was in the world. Soon after, the tenner I had left in my Nationwide account was transferred along with all my direct debits. One thing I forgot to do was transfer my ISA balance to my current account so that it came over with the other pennies.
I went into my local Nationwide branch and explained the situation with the opening line of something like, "help, my life savings are trapped in your ISA and I need the money because I'm really poor patiently waiting for my invoices to be paid!" As usual, the staff were super helpful and I received a cheque for the balance.
BUT HOW ON EARTH DO I PAY A CHEQUE INTO AN ONLINE BANK ACCOUNT?
Heart palpitations began. I was stuck with this promise of money and couldn't get my paws on it meanwhile my balance was rapidly decreasing pound by pound as various direct debits were taken.
Luckily, if you write your account number on the back of the cheque and post it to FREEPOST MONZO. Sending a cheque for my meagre life savings in an envelope with a couple of words no stamp or any proof of postage was pretty nerve-wracking and I was sliding into their DMs a few days later wondering where the heck it was.
Ta-da, here's your cash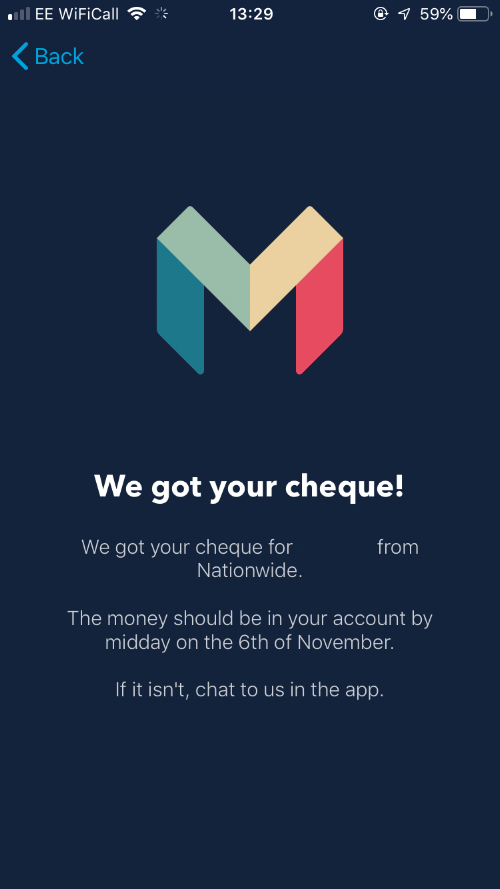 And then the notification appeared to say it had been received and my account would be topped up within days. PHEW. There's a first time for everything, but I feel like this was my first experience of 21st century banking and it was fabulous!
So what's all this about ethical banking then?
I want to know my relatively pathetic amount of money is invested in line with my own ethics and morals. Ethical Consumer (EC) has great articles about all kinds of companies, banks and brands so that we can make more informed choices about what goods and services we buy. I don't want my money funding sales of firearms or fossil fuels and the like. The only downer to this website is to get the more recent information, you need to subscribe. I haven't got that kind of money just yet!
Unfortunately, Nationwide doesn't offer business bank accounts so I went hunting for the next best bank for this service. The thing with business banking is it generally costs money to do it (surprise, this is how banks make big cash). If you're opening a new account there are countless offers for two or more years' fee free banking. I decided to go with Yorkshire Bank (now merged with Clydesdale Bank) for this reason and for its ranking as an ethical institution.
Monzo is filed under app-based banking on the EC website, which sheds little light on Monzo's position, however their own ethics page is frequently updated despite being short in length (at the time of writing, their only investment is in unsecured personal overdrafts for its customers, so I guess they don't have much more to add). The bank is still in its infancy when you pitch them against the competition so they've got a way to go until they have substantial policies for everything. The best idea of their morals, ethics and transparency comes from their community forum. Employees regularly contribute and are open to ideas from their customer base, constantly taking on advice and concerns from them.
Ch-ching!
So that's where I'm at currently: two bank accounts (one personal, one business), both without any fees for the time being and both ranking high on the ethics scale. Winner!
What are your experiences with ethical banks? Do you recommend any?
—
Disclosure: this blog is not an ad for Monzo, Nationwide, Yorkshire Bank or Ethical Consumer (Heck, I wish I could say I was paid to write stuff on my blog!). I'm sharing my experiences with the resources I used and, as I'm not a financial adviser of any sort, I would encourage others to do their own research in order to meet their own personal and business banking needs.